Remote Activation of Aircraft Engine Preheaters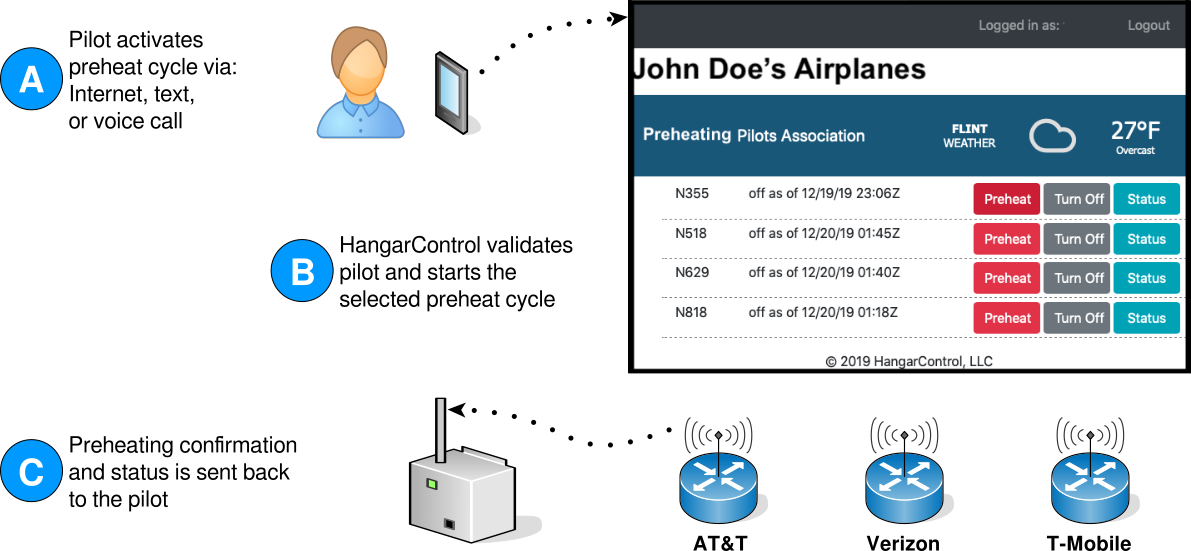 HangarControl automatically works with the best cellular data carrier in your area
Why use remote preheating?
If you are using an oil sump heater alone, we recommend NOT leaving it on continuously unless the aircraft is flown frequently, and neither do the engine manufacturers. Any oil heater used alone will raise your oil temp more than it raises the top end.
Pricing
HangarControl is very affordable:
$120 yearly service fee per aircraft.
$190 one time hardware refundable security deposit per aircraft.
Multi-aircraft fleet discounts on the service is available, contact for more information.
FAQ
HangarControl in the simplest form is a one channel switch that is turned on and off from your computer or smart phone via the Internet, SMS, or voice call. Once you access the HangarControl website your fleet will be visible and ready to start preheating with the click of a button.
A control box is connected between a 110 volt outlet and your airplane's preheating equipment. Once an aircraft is selected for preheating the HangarControl box will activate a solid state relay switch via a cellular network. We like this switch over mechanical switches for many reasons. Mainly because it is a spark free event and will work in extreme cold temperatures.
It depends on the application. Our control boxes will dissipate any excess heat created by the SSR. For example: At an ambient temperature of 42F and a 1433 watt load, you can expect the radiated heat to stabilize at 78F. A suitable cabin heater and oil sump heating element configuration for a Cessna-172 is typically 900 watts.
Our experience over the last three years of development and testing has shown that most aircraft only need one control channel attached to a dual socket outlet to operate a 500 watt cabin heater and 300 to 900 watt engine heat system.
We recommend not exceeding a combined draw of 1700 watts if the ambient air temperature is above 42F. Note: a suitable cabin heater and oil sump heater configuration for a Cessna 172 is typically 900 watts.
YES! All pilots have a unique user name and password.
YES! Pilots can access authorized aircraft from multiple fleets with their account.
Currently HangarControl is only for North American aircraft. The control box is not intended for outdoor use. Your hangar must have at least one 15amp 110volt outlet.
HangarControl was created by two pilots from Michigan to solve the economic problems of fleet remote preheating at their own club. Now they would like to share it with others facing similar challenges. The preheating system has been in development and testing since 2016 at Flint Bishop Airport in Michigan (KFNT). As the company evolves, more products will be developed for the care and maintenance of GA aircraft.